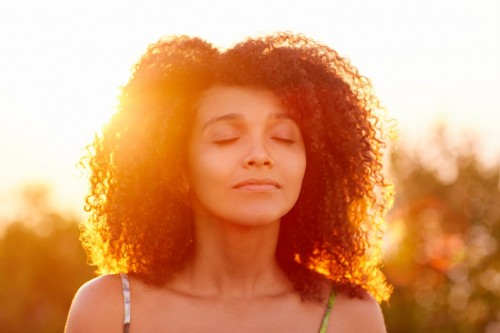 A global pandemic. Record unemployment. Business closures. Racial protests. To say these are tough times is an understatement. We're all stressed, frustrated, anxious, and discouraged. Which means we can all use some words of encouragement. Here are some of my current favorites for helping me stay in the right frame of mind.
1. "Don't let life discourage you; everyone who got where he is had to begin where he was."—Richard L. Evans
2. "Everything is either an opportunity to grow or an obstacle to keep you from growing. You get to choose."—Wayne Dyer
3. "Hold the vision, not the circumstances."—Mary Morrissey
4. "You always have two choices: your commitment versus your fear."—Sammy Davis, Jr.
5. "Life is tough, my darling, but so are you."—Stephanie Bennett Henry
6. "Trying is winning in the moment."—Dan Waldschmidt
7. "As important as keeping a grasp on reality is keeping a grasp on possibility."—Robert Brault
8. "Just don't give up what you're trying to do. Where there is love and inspiration, I don't think you can go wrong."—Ella Fitzgerald
9. "The jungle is dark but full of diamonds."—Arthur Miller, Death of a Salesman
10. "It's never too late, in fiction or in life, to revise."—Nancy Thayer
11. "What we face may look insurmountable. But what I learned is that we are always stronger than we know."—Arnold Schwarzenegger
12. "Hope is like the sun—if you only believe in it when you can see it, you'll never make it through the night."—Leia Organa, Star Wars: The Last Jedi
13. "Difficulties in life are intended to make us better not bitter."—Dan Reeves
14. "If you're beat up, don't GIVE up: REST up, then GET up."—Tristan Bishop
15. "Eliminate the phrase, 'I can't because…' It's a roadblock to ongoing growth and profitability."—Janet Attard
16. "We cannot cure the world of sorrow, but we can choose to live in joy. You've got to find the force inside you."—Joseph Campbell
17. "Anxiety is the hand maiden of creativity."—Chuck Jones
18. "I don't think of all the misery, but of the beauty that still remains. Go outside, to the field, enjoy nature and the sunshine. Think of all the beauty that's still left in and around you. Be happy."—Anne Frank
19. "He knows not his own strength that hath not met adversity."—Cesare Pavese
20. "When we create hope and opportunity in the lives of others, we allow love, decency, and promise to triumph over cowardice and hate."—Kirsten Gillebrand
21. "Fear makes the wolf bigger than he is."—German Proverb
22. "Optimism is a strategy for making a better future. Because unless you believe that the future can be better, you are unlikely to step up and take responsibility for making it so."—Noam Chomsky
23. "We are the White Knight we've been waiting for."—Sam Horn
24. "May your choices reflect your hopes, not your fears."—Nelson Mandela
25. "A laugh can be a very powerful thing. Sometimes in life it's the only weapon we have."—Roger Rabbit, Who Framed Roger Rabbit?
26. "Failure is like a mandatory truck stop on the road to success. It ain't where you're headed, but it's part of the journey."—Brad Montgomery
27. "I count my blessings more than I count my money."—Dolly Parton
28. "The fishermen know that the sea is dangerous and the storm terrible, but they have never found these dangers sufficient reason for remaining ashore."
—Vincent Van Gogh
29. "Of all the choices you make each day none is more important than the choice of a positive attitude."—Steve Keating
30. "Change is inevitable, growth is intentional."—Glenda Cloud
31. "Embrace your greatest challenges. If you don't face them, no one will ever know what you are capable of. Not even you."—Randy Gage
32. "Success is the culmination of failures, mistakes, false starts, confusion, and the determination to keep going anyway."—Nick Gleason
33. "Hope and fear cannot occupy the same space. Invite one to stay."—Maya Angelou
34. "When everything seems to be going against you, remember that the airplane takes off against the wind, not with it."—Henry Ford
35. "You cannot beat a river into submission. You have to surrender to its current and use its power as your own."—The Ancient One, Dr. Strange
36. "If we all threw our problems in a pile and saw everyone else's, we'd grab ours back."—Regina Brett
37. "Before you can win the fight, you've got to be in the fight."—Bill Walsh
38. "Courage doesn't always roar. Sometimes courage is the quiet voice at the end of the day saying, 'I will try again tomorrow'."—Mary Anne Radmacher
39. "Find the good. It's all around you. Find it, showcase it and you'll start believing in it."—Jesse Owens
40. "The power to affect your future lies within your own hands."—Nido Qubein
41. "Whatever you fear most has no power—it is your fear that has the power. The thing itself cannot touch you. But if you allow your fear to seep into your mind and overtake your thoughts, it will rob you of your life."—Oprah Winfrey
42. "I am in love with hope."—Mitch Albom
43. "Hold fast to dreams
For if dreams die
Life is a broken-winged bird
That cannot fly."
—Langston Hughes
44. "The triumph can't be had without the struggle."–Wilma Rudolph
45. "People are always blaming their circumstances for what they are. I don't believe in circumstances. The people who get on in this world are the ones who get up and look for the circumstances they want, and if they can't find them, make them."—George Bernard Shaw
46. "Do not give up. It's amazing how things can turn themselves around."
—Karen Salmansohn
47. "Fear is terrified of a plan."—Mike Staver
48. "There are always two voices sounding in our ears—the voice of fear and the voice of confidence. One is the clamor of the senses, the other is the whispering of the higher self."—Charles B. Newcomb
49. "You're not obligated to win. You're obligated to keep trying to do the best you can every day."—Marian Wright Edelman
50. "Hold on to your dreams of a better life and stay committed to striving to realize it."—Earl G. Graves, Sr.
51. "Everything that is done in the world is done by hope."—Martin Luther
52. "The most difficult thing is the decision to act, the rest is merely tenacity. The fears are paper tigers. You can do anything you decide to do. You can act to change and control your life; and the procedure, the process is its own reward."—Amelia Earhart
53. "I have never seen a monument erected to a pessimist."—Paul Harvey
54. "When I was a little boy and I would see scary things in the news, my mother would say to me, 'Look for the helpers. You will always find people who are helping."—Mr. Rogers
55. "There is nothing we cannot live down, rise above or overcome."—Ella Wheeler Wilcox
56. "Beware of quitting too soon. Dr. Seuss' first children's book was rejected by 23 publishers. The 24th sold six million copies."—Ann Landers
57. "Life doesn't get easier or more forgiving; we get stronger and more resilient."—Steve Maraboli
58. "Today's an awesome day to start your finest life. In a year, you'll regret not beginning today."—Robin Sharma
59. "People who expect positive results are more likely to produce them."
—Heshie Segal
60. "Everything can be taken from a man but one thing: the last of human freedoms—to choose one's attitude in any given set of circumstances, to choose one's own way."—Victor Frankel
61. "Start where you are, with what you have. Make something of it and never be satisfied."—George Washington Carver
62. "You don't make progress by standing on the sidelines, whimpering and complaining. You make progress by implementing ideas."—Shirley Chisholm
63. "When you can't do what you do … do what you can."—Jon Bon Jovi
64. "You must have long term goals to keep you from being frustrated by short term failures."—Charles C. Noble
65. "Action is the antidote to despair."—Joan Baez
66. "Don't dwell on reality; it will only keep you from greatness."—Randall R. McBride, Jr.
67. "Hope is not a strategy, but you can't achieve success without it."—Don Cooper
What are some of your favorite encouraging, inspiring quotes? Share them in the comments below!
Leave a comment