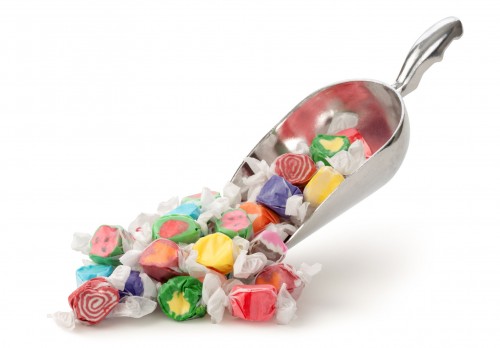 In 1885, Joseph Fralinger—a former glassblower and fish merchant—took over a taffy stand in Atlantic City, New Jersey. He bought some books on candy-making and set about learning the business. Before long, he was offering 25 different flavors of saltwater taffy and was one of the most successful candy shops on the Boardwalk.
But this story isn't about the taffy. It's about the way Fralinger sold it.
Looking for ways to boost his candy sales, Fralinger came up with the idea for a "souvenir box." At the time, taffy was sold by the piece or the bag, and Fralinger reasoned that if he offered taffy in a prepackaged one-pound box, people might be inclined to purchase the larger amount.
Fralinger ordered 200 boxes printed with pictures of the Atlantic City skyline, the beach, the boardwalk, and sunbathers. He then filled the boxes with a pound of assorted taffy.
They sold out in less than a day.
Fralinger had stumbled onto an important concept: People weren't just buying taffy—they were buying memories.
And that concept is part of a larger principle: When people buy a product or service, it's often for a reason that has nothing to do with that product or service.
How can you profit from this principle? Think of the reasons people buy your product or service. Then go beyond those obvious reasons. Dig deeper. Get into your customers' psyches. What emotional needs are they trying to fill?
Once you've figured that out, brainstorm ways you can help them fill those emotional needs. What tweaks can you make to your products, your packaging, your services, your sales process, your customer care, etc.?
Undertaking this exercise can boost both your sales and your profits, because people will happily pay more when you meet their deepest, most compelling needs. (Note that a one-pound "souvenir box" costs more than a pound of taffy in a plastic bag.)
The "souvenir box" quickly spread to other candy shops in Atlantic City and eventually, to candy stores—as well as theme parks, resorts, museums, and airports—around the world because it taps into a powerful buying motivator. And it's a motivator that you can tap into as well.
Chew on that for a while.
Leave a comment