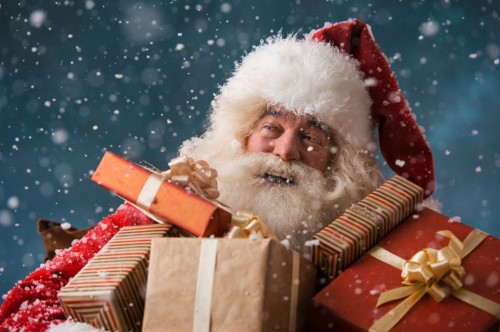 I recently had the chance to sit down with the CEO of one of the most successful organizations in the world—the big man himself, Santa Claus. It was a cool, fall day—before the craziness of fourth quarter set in, when St. Nick had a little time to spare. His legendary jolliness was on full display, and over a cup of hot cocoa, we had a great chat.
DC: You have so many names: Santa Claus, St. Nicholas, Kris Kringle, Pere Noël, Pelznickel, Ded Moroz—how did you come by them?
SC: The names come from the different languages of various countries and the early stories they told about me. For most of my career, I've worked on the down low, and when people don't understand something, they make up stories. And I wasn't exactly leaving my business card at every stop, so they made up names for me as well.
DC: Which name do you prefer?
SC: I like them all! Really, I'm pretty easy going, so feel free to call me whatever you like.
DC: What's your favorite thing about Christmas?
SC: The sheer joy on children's faces when they unwrap their presents and when they play with their toys on Christmas morning. We record all those moments so we can watch them when I return from my deliveries. It's just the best.
DC: What's your favorite Christmas movie?
SC: Miracle on 34th Street. Followed closely by Die Hard.
DC: What's your favorite Christmas song?
SC: I can't stand Christmas music! It's the same twelve songs over and over again. We actually don't play it at the North Pole—not in the house, not in the workshop, not even in the reindeer stables.
DC: What kinds of music DO you like?
SC: I'm a big hip-hop fan. And acid jazz. I crank that up to 11. Mrs. Claus loves classic rock and Irish drinking songs. And the elves are all over the board.
DC: How has technology impacted your work?
SC: Not that much, really. We have a small tech department that handles e-mail and monitors social media, but that's about it. Our behavior-monitoring and data-analysis efforts aren't technology-based. The systems we set up in the beginning still work perfectly and are superior to anything employed by the world's most advanced intelligence agencies. And they're more reliable and secure as well. Let's face it, I can't afford to have a bunch of servers crash or have my data hacked.
DC: Are kids getting naughtier? Or nicer?
SC: Surprisingly, neither. I've been tracking global naughtiness for hundreds of years. And over that time, the JNI (Juvenile Naughtiness Index) has been nearly a constant. Sure, it may tic up or down a bit occasionally, but it invariably regresses to the mean.
DC: What have been the biggest changes you've seen over the years?
SC: Children's requests have gotten completely out of hand. Back in the day, kids would only ask for one present. And it was usually something simple: a baseball bat, a doll, a wagon. Now, kids have lists longer than real estate contracts! And of course they want the latest electronics and video games.
DC: Is there anything that annoys or frustrates you about Christmas?
SC: Yes, now that you mention it. A lot of times, parents will give their kids things like underwear, or electric toothbrushes, or educational materials, and write on the gift tag that it's from me. And then the kids blame me for it. So parents, cut that out! In fact, if your kid's been good, don't give them things that are no fun. Those aren't presents. And the only time you should give somebody underwear is when you're buying lingerie for your significant other.
DC: Speaking of significant others, you and Mrs. Claus have been married for an incredibly long time. What's your secret for a successful relationship?
SC: There are several. The first is to have mutual goals, values, and priorities. Mrs. Claus shares my passion for children and has always been a huge supporter of my mission. Another is communication. We talk about everything—there are no secrets between us, and we make it a point to always ask the other for what we need and want. And a third is keeping the spark alive. I still think she's a hottie and I let her know that every chance I get!
DC: So you and Mrs. Claus….um….how do I put this……
SC: Hey, it's cold at the North Pole! We gotta keep warm! Ho, ho, ho!
DC: What do you do right after Christmas?
SC: Everybody gets a two-week vacation. The Mrs. and I usually go someplace tropical: the Caribbean, Hawaii, Bora Bora…
DC: Do you know the Easter Bunny?
SC: The Easter Bunny and I are tight. We have dinner with the Bunnies several times a year. And we share intel, resources, and best practices.
DC: How do you get food at the North Pole? It's not like GrubHub delivers there.
SC: We grow most of our own food. We have a huge greenhouse where we grow fruits and vegetables, and we raise chickens and livestock. So we have eggs, beef, lamb….
DC: Reindeer meat?
SC: Next question.
DC: I understand that a few years ago, you filed lawsuits against a number of companies for unauthorized use of your image. What happened with those?
SC: That litigation is still in process, so I can't comment on it at this time.
DC: Okay, on a lighter note, what's your favorite kind of cookie?
SC: Chocolate chip. But I love all cookies! And brownies too. Except for the gluten-free ones. I give those to the reindeer. And other kinds of treats are nice too. Some French families leave out these little eclairs. Those are so good!
DC: Does it bother you that many people don't believe in you?
SC: Over the centuries, I've learned that it doesn't matter if people believe in you as long as you believe in yourself.
DC: One final question: Am I on the naughty or the nice list?
SC: I think we both know the answer to that one.
Leave a comment