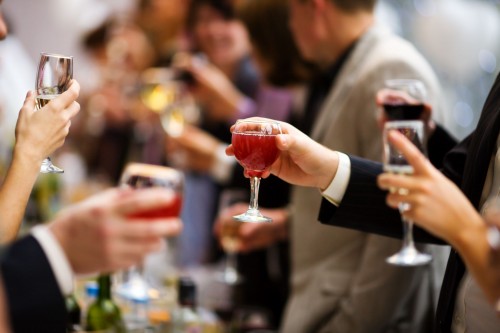 The holidays are officially upon us. (Judging by the ads, store displays, and TV listings, Christmas now apparently starts on November 1.) Which means that your calendar will soon be filling up with holiday events organized by friends, relatives, charities, clients, vendors, and possibly even your own company.
The annual abundance of holiday parties presents both opportunities—sales, career, romantic, and otherwise—and risks. How can you maximize the former while minimizing the latter? Here are nine strategies for effectively navigating the season's social obligations.
1. Don't feel obligated to attend everything
The holidays are a great excuse to throw a party. And every year, lots of people and organizations take advantage of that excuse. Which can result in your calendar being awfully full. Even too full. And that can add to the stress you're already feeling due to all the other responsibilities and obligations in your job and personal life. So understand that it's okay to say no to some invitations. Prioritize the events on your calendar and attend the ones that are most important to you. Let the rest slide with your apologies. The great thing is that everyone is so busy during the holidays, the hosts you decline will absolutely understand.
2. Split up
When attending a function with colleagues or a significant partner, a good strategy is to split up shortly upon arrival. That way you get to meet more people. If you meet someone you think your boss, colleague, or spouse should meet, you can introduce them. And they can do the same for you. As a bonus, it gives you a polite way to extricate yourself from bad conversations: just say you need to check on your partner/colleague, and you can easily make your escape.
3. Stick together
If you're uncomfortable in social situations—whether you're a serious introvert, you have a social anxiety disorder, you're battling depression, or you simply lack social skills (as was the case for me for years)—the prospect of attending holiday events can fill you with dread. Yet avoiding them can hurt your career and cause you to miss out on potential sales opportunities. To help you survive—and reap the benefits of attending—bring a trusted friend or your partner with you and stick with them. And feel free to take breaks to be alone as often as you need during the event.
4. Don't be too business-y
Social holiday functions are about being social. And even business events are only nominally about business. So while you may encounter business, sales, or career opportunities, don't focus on those. Be social. Be fun. Be a good listener. Keep in mind that people are more likely to hire you or buy from you if they like you.
5. Get to know people
How can you avoid talking about your business too much? Simple. Ask questions. But while at a trade show or business networking event you'd ask questions about their business, at a holiday function you have the opportunity to ask questions that are more personal. And for your acquaintance, questions that are a lot more fun and interesting for them to talk about. Ask about their spouse, their kids, their pets, their sports teams (college and pro), their favorite holiday traditions, their vacations, their accomplishments, their plans. Get to know them as people, not as prospects.
6. Don't talk religion
I don't care what God you pray to. I don't care whether you celebrate Christmas, Hanukkah, Kwanzaa, Ramadan, or none of the above. I don't care if you think the holidays have become too secular and we need to remember "the reason for the season." And nobody else does either. Nothing will turn a new acquaintance off faster than proselytizing. So unless you're attending an overtly religious function, keep your beliefs to yourself.
7. Be positive
You may have had an off year. You may have had a terrible year. You may have had the worst year of your life. No one needs to know that. Complaining, lamenting, and whining will cause the people you meet to run in the opposite direction. And do their best to avoid talking with you in the future. Find the positives in your life or business. Highlight what you're grateful for. Think about what you're excited about or hopeful for in the coming year. And smile.
8. Don't drink too much
Alcohol often flows freely at holiday parties. Which can be both tempting and dangerous. So err on the side of caution. Keep in mind that at business events, you need to always be "on" because you are always representing your company. And even at purely social functions, your reputation can be sullied in an instant. Remember too, that at either type of event, anything you do or say can end up on social media. And stay there.
9. Follow up
One of the most important elements of networking is the one that most of us—including me—struggle with: following up after the event. Schedule some time in your calendar to write thank-you notes, jot emails, and send LinkedIn invitations. Because the follow up is where the new relationship really starts.
The holidays can be a time of stress, angst, and frustration. But what it should be is a time of connection and reconnection—with friends, family, and community. Take advantage of the opportunities to create and strengthen relationships and other types of opportunities will follow.
Leave a comment