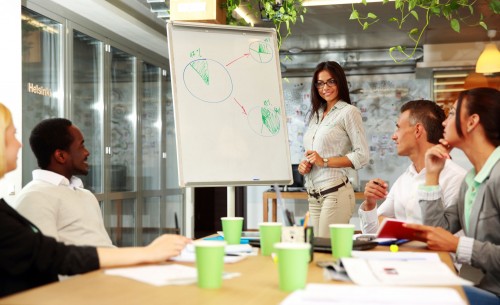 Whether you're a salesperson, executive, or business owner, presentation skills are vital to your success. But presentation skills are rarely taught in school, and too many companies don't invest in such training for their people. Which means if you want to be a better presenter, you're often on your own.
Fortunately, there are plenty of resources to help you hone your skills. Here are eleven options.
1. Read books
There are thousands of books on the subject of presentation skills, from beginner-level to advanced. Check out Amazon, your local book store, or your local library.
2. Check out articles, blog posts, and podcasts
As many books as there are, there are hundreds of times as many articles and podcasts—on every facet of speaking and presenting. Just search for the specific subtopic you're most interested in. Oh, and hey, would you look at that? There are some posts right here on this site on the subject:
Six Ways NOT to Open a Presentation
Five Steps to Creating a Powerful Sales Presentation
Seven Sales Presentation Tips from Infomercials
Top Ten PowerPoint Mistakes Salespeople Make
Nine Tips for Crafting Better Sales Presentations
11 Ways to Close Your Next Presentation with Impact
3. Watch videos
There are also thousands of videos about presentation skills, with the bonus that many of them model the principle or tactic they discuss, so you can see it in action.
4. Audio record yourself
What we think we say is not necessarily what we actually say. And how we think we say it is not necessarily accurate either. Listening to a recording of yourself will enable you to hear how you really sound. And while it's not fun, it will give you tremendous insights into your current strengths and weaknesses.
5. Video record yourself
Video recording will take your personal discomfort to the next level. Not only will you hear everything you're doing wrong, you'll see it too! (Don't worry—even professional speakers have a tough time watching themselves on video. But we do it because it helps us get better.)
6. Practice in front of others
Ask your manager, colleagues, friends, or spouse to watch you and provide you with feedback, both positive and constructive. Ask them to be painfully honest.
7. Join Toastmasters
Toastmasters International is a worldwide non-profit organization that enables people from all walks of life to develop their presentation skills in a supportive environment at their own pace. With nearly 16,000 local clubs in 142 countries, there are almost certainly several clubs near you.
8. Take a public speaking class
Many community colleges and adult education programs offer classes in speaking and presenting. Whether it's a single evening or several weeks, it's a good—and cost-effective—use of your time.
9. Attend a presentation skills seminar
Seminars are typically more expensive than an adult ed course, but they usually offer more advanced insights and tactics.
10. Study other presenters
Thanks to this cool thing called "The Internet," it's possible to watch lots of other speakers, with a range of skill levels, delivering a wide variety of presentations. And you can learn something from each one of them.
11. Work with a speech coach
While it's the most expensive option in the list, a speech coach can provide you with one-on-one attention and personally help you craft every element of a presentation. If the presentation is really important, a speech coach is a solid investment.
The power to be a better speaker is in your hands. Presentation skills are among the most valuable skills you can strengthen, and they will serve you in situations beyond sales calls. They will improve your commissions, your career, your image, and your impact.
By the way, if you're a CEO or sales VP, consider bringing in an expert to train your sales team. The better their presentation skills, the more deals they'll close for you.
Leave a comment