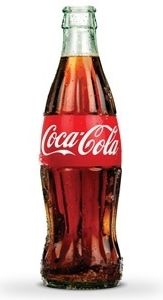 As a professional speaker, I travel a lot. Which means I stay in a lot of hotels. As a result, I have a lot of appreciation for how hard housekeepers work and how important tips are to them.
At the conclusion of a recent stay, I had just left the room with my luggage when I realized I had forgotten to leave a tip for the housekeeper. Seeing as how I was already at the elevator, I could easily have just shrugged it off and headed out. But instead, I went back to the room.
After dropping a few dollars on the bed, I looked up and noticed my cell phone charger still plugged into the wall outlet. With a feeling of gratitude, I grabbed it and threw it in my briefcase. As I left the room for the second time, I reflected on the fact that if I hadn't returned to the room, I would never have remembered the charger.
I thought about this incident upon reading a news story about Coca-Cola suspending all of the their advertising in the Philippines indefinitely. Coca-Cola Philippines is redirecting all of its advertising budget to relief efforts in the wake of the destruction caused by typhoon "Yolanda." That money is in addition to the millions of dollars Coca-Cola worldwide has already pledged to the relief efforts.
Naturally, this story has been picked up by news outlets around the world and is circulating like crazy on social media. Which means that Coca-Cola is potentially getting millions of dollars in free publicity.
But I don't believe Filipino Coke executives gathered together and said, "Hey you know what would be a great PR stunt?" I suspect instead the decision was made because executives sincerely wanted to help as much as possible.
Here's the thing: Generosity isn't a strategy. It's a value. And when you demonstrate that value, it's more powerful than any marketing you can buy. When you take care of your employees, your customers and your community, people want to do business with you. (Witness the incredible success of TOMS Shoes.)
Is your company generous? If not, why not? And how can you change that?
If your company is generous, how can you demonstrate it beyond what you're already doing?
I'm not saying you should be more generous in order to make more sales and more money. I'm saying you should be more generous because the world needs your generosity. It just so happens that the world tends to reward generosity. (Sometimes with free publicity and sometimes with a nearly-forgotten cell phone charger.)
Always remember that money is a by-product of serving others. So look for opportunities to serve. Because doing good is always good business.
Leave a comment