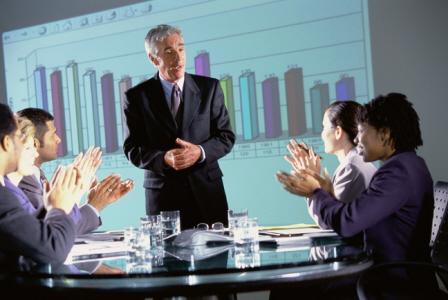 A great sales presentation makes people want to buy. A poor presentation costs you the sale. Want to make sure your presentations are superior?
Listen to my appearance on Breakthrough Business Strategies Radio with Michele Price as I share a simple five-step process for creating winning sales presentations. In this eight-minute segment, you'll discover:
• The best way to open your presentation
• How to build your credibility
• Why you don't need to have the "best" product or service to make the sale
• The one thing you must have in your presentation
• And more!
To listen, just click on the link below. Or to download the segment to listen later, right-click the link and select "Save Target As…"
Five Steps to Creating a Powerful Presentation, Don Cooper on Breakthrough Business Strategies Radio (mp3)
To learn more about Michele Price and listen to her interview other business experts on Breakthrough Business Strategies Radio (which I strongly recommend), check out her web site: www.WhoIsMichelePrice.com.
Leave a comment