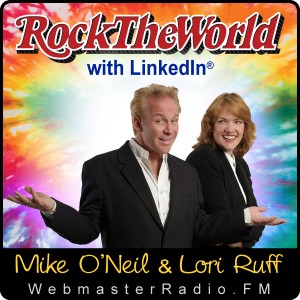 LinkedIn is one of the most powerful marketing and prospecting tools ever created. It's ideal for salespeople, professionals and business owners of all types. But do you know how to leverage it?
Listen to my appearance on the Rock the World with LinkedIn radio show with Mike O'Neil and Lori Ruff as I discuss ways to use LinkedIn to boost your sales. In this half-hour segment, you'll discover which groups you should join and why, how to increase your visibility, three ways to leverage your blog on the site and more!
To listen, just click on the link below. Or to download the segment to listen later, right-click the link and select "Save Target As…"
Marketing and Prospecting with LinkedIn Groups, Don Cooper on the Rock the World with LinkedIn radio show (mp3)
Start using LinkedIn to enhance your prospecting and marketing efforts!
To learn more about Mike O'Neil and Lori Ruff—two of the world's leading experts on LinkedIn—and how they can help you make the most of your social media efforts, visit www.integratedalliances.com. Or click on their names to view their LinkedIn profiles.
And be sure to check out my review of their book, Rock the World with Your Online Presence. It's a must-read for anyone who wants to use LinkedIn like a pro.
Leave a comment