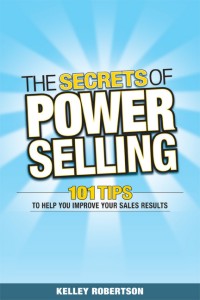 Kelley Robertson understands that true sales professionals are always looking for an edge. He also understands that most salespeople are ridiculously busy and don't have the time to slog through an entire book to find the nuggets they need to give them that edge.
So rather than write a book that needs to be read cover to cover, he wrote one that can be easily skimmed. Robertson collected 101 simple yet powerful ideas and assembled them into a single volume. The result is The Secrets of Power Selling: 101 Tips to Help You Improve Your Sales Results (Wiley, $19.95).
Each of the 101 chapters is short (two to three pages), concise and practical, with titles such as The Power of Adapting Your Approach, The Power of Self-Evaluation and The Power of Painting Mental Pictures. The book's chapters are arranged alphabetically, so in effect, the table of contents is also the index. This makes it easy to flip right to the subject you're looking for at the moment.
Whether you're brand new to sales or you're an experienced sales veteran, you'll discover a number of useful strategies and tactics for increasing your effectiveness. I conduct sales seminars and training programs for a living and I found some great ideas in this book. Some of my favorite chapters included The Power of Apologies, The Power of Pausing and The Power of One.
In addition, Robertson shares:
    • six reasons salespeople fail to follow up;
    • seven things every salesperson needs to know to be successful;
    • five strategies for effective networking;
    • eight powerful prospecting strategies; and
    • seven tips for writing better proposals.
The content is well written and easy to read. Robertson provides clear examples and illustrative stories to support his points. And every chapter ends with a Sales Tip, which is really an action item. If you implement even a few of the suggested tips, I'm certain you'll see your sales improve.
One recommendation: Don't just stash this volume in your bookcase. This is not a book to be read once and then shelved away. It's a valuable reference tool that you'll want to go back to again and again. Keep it in plain sight for easy access. It's likely to become one of your favorite sales resources.

Leave a comment